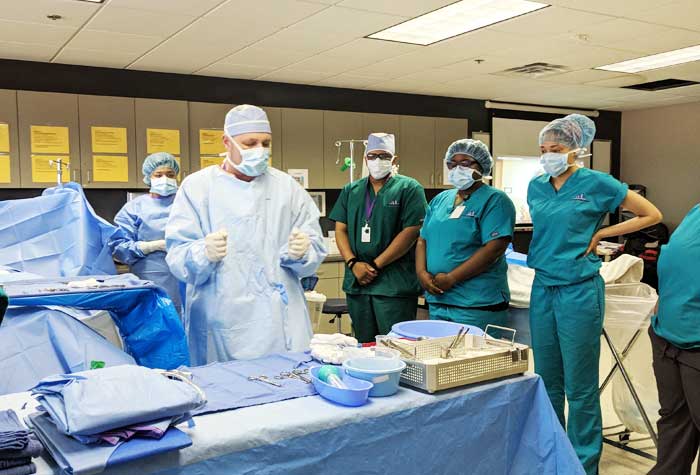 5 Reasons to become a Surgical Tech
Are you someone who wasn't quite sure after your high school graduation what you wanted to do with the rest of your life, so you decided to get a job to fill the time? Are you getting sick of your job because it doesn't pay well or lacks growth? If you want to take your life to the next level, consider going to school to become a surgical technician. There are so many reasons to become a Surgical Tech, but we've compiled 5 great reasons to become a Surgical Tech that you may want to explore.
If you are unsure of what a surgical tech does, the first thing you need to know is that surgical technicians play a very important role in the operating room. Surgical technicians have the responsibility of preparing both the patient and the operating room for surgeries, which includes sterilizing the equipment and ensuring there are adequate supplies in the operating room before the surgeon begins.
Before an operation, surgical technicians prep the patients by cleansing and disinfecting any incision areas. During the surgery, they hand the surgeon the instruments they need or hold organs in place using retractors. Once the operation is over, surgical technicians help dress the patient's wound and transfer them to the recovery room.
Now that you know what surgical technicians do, here are 5 great reasons to consider a career as a surgical technician:
Reason #1 – You can enter the field quickly. Most careers in the medical industry require many years of education. However, you can become a surgical tech in less than a year and half. Milwaukee Career College offers a surgical tech program that offers a diploma with approximately 71 weeks of training.
Reason #2 – Job opportunities are growing. The Bureau of Labor Statistics predicts that the surgical tech field will grow at a faster-than-average rate over the next decade. Greater demand for surgical techs means that pay is likely to increase.
Reason #3 – Better than average pay. According to the Bureau of Labor Statistics, as of May 2019, the average salary is $48,300 a year. With growth in the industry, and a greater need for surgical techs developing, surgical technicians are poised to earn higher wages.
Reason #4 – You can work almost anywhere. Most surgical techs work at hospitals, which are found in almost any town in America.
Reason #5 – It's an exciting career. Your job won't involve endless hours sitting at a desk pushing paperwork. This career brings something new every day. You will get to interact with amazing surgeons and help heal people on a daily basis. It can be a very rewarding career.
Did these 5 reasons convince you that becoming a surgical tech might be the right choice for you? If you are interested, but would like more information, consider calling a career advisor at Milwaukee Career College (MCC). One phone call can change your life, in just a little over a year, you can have a great new career full of growth and opportunity.