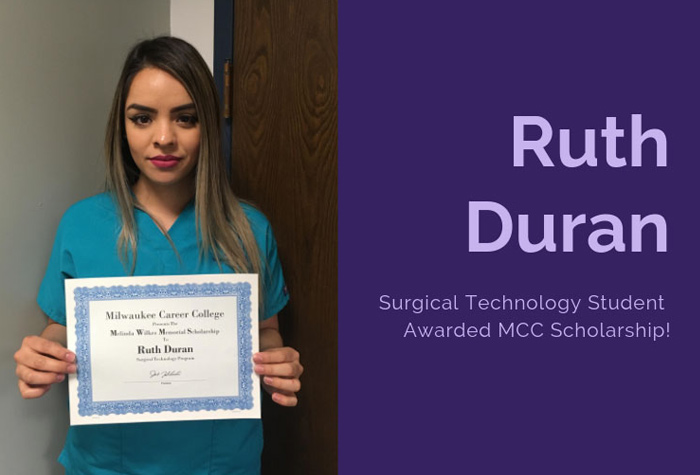 Surgical Tech Student Awarded Scholarship
Milwaukee Career College Scholarship Winner
Surgical Tech Student, Ruth Duran, Surgical Technology student at Milwaukee Career College (MCC) was the recent winner of the Melinda Wilkes Memorial Scholarship! The scholarship is awarded to MCC students bi-annually and is based on demonstrated scholastic achievement as well as an above-average potential for success in their chosen field of work. The recipient must be of good character and have a record of good citizenship and community service.
Ruth heard of the Melinda Wilkes Memorial Scholarship when she first started her training at MCC. She submitted the documentation, essay, completed additional requirements and patiently waited to hear who the winner would be. When she heard she won she was shocked and excited to receive the scholarship! She explained the scholarship win was a blessing, "I usually don't win these kinds of things," Ruth said. "It is a true blessing. Thank you!"
The First of the Family to Attend College
Coming from a family of immigrants, Ruth has always valued the opportunities granted to her in the United States. She is currently pursuing her dream to be the first in her family to graduate from college. Ruth's drive to succeed stems from understanding the sacrifice her parents have made to give her siblings and her a better life. "It is my mission to pull through and do anything it takes to become the first person to graduate college in my family," Ruth said.
Before enrolling at MCC, she worked as a service manager for Chipotle Mexican Grill. One of her coworkers at Chipotle had recently graduated from MCC and told Ruth about her experience. She quickly found her experience at other colleges would differ greatly from MCC. Her classes had previously included 30 or more students, but at MCC the one-on-one instruction and small class sizes set her up well to realize her dream of working in the medical field.
"I've always had an interest in the medical field," Ruth explained when asked why she was interested in surgical technology. "I believe in working in a career where you are giving back. I want to work in a field where not only am I helping myself but helping others by saving lives every day."
A Bright Future Ahead for Surgical Tech Student
With individualized attention from instructor's and a passion for giving back Ruth is excelling in her training. She prioritizes studying, stays after class to assist instructors, and is putting full effort into maintaining a perfect attendance record through graduation. Ruth believes in prioritizing her homework and studies above all else, saying that she will miss going out to the movies or going out on weekends but that it'll be worthwhile in the end.
As a Surgical Technology student, Ruth is excited to work in a field where she is not only furthering her career goals but helping others by saving lives every day. A natural leader, she plans to be in a leadership position so she can be trusted to train others and pass her education along. She also has a strong desire to utilize her time outside of her new career for volunteer work. "I believe that part of having a gifted job is to give back," Ruth said.
Congratulations, Ruth! We're proud of the hard work you've put in so far and know you'll be a great surgical tech someday soon. Thank you for choosing Milwaukee Career College to kick-start your new career in the medical field!
Contact us to learn more about surgical technology classes and how MCC can help you get started on your new career!