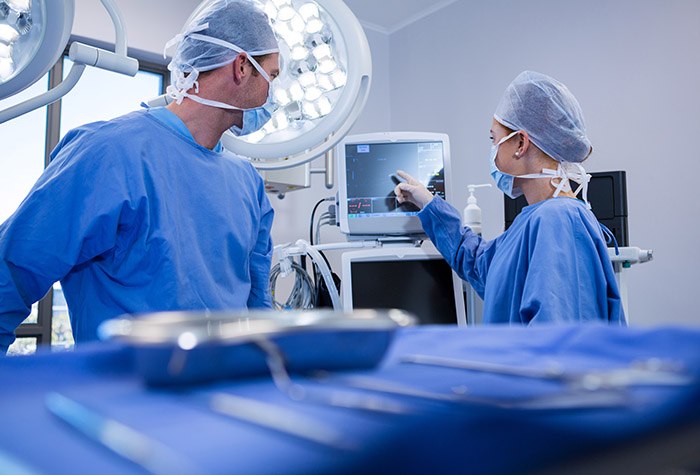 Surgical Technology Training – Milwaukee
If you're looking for surgical technology training programs in Milwaukee, then consider Milwaukee Career College (MCC). According to the Bureau of Labor Statistics, the employment of Surgical Technologists is expected to grow much faster than the average for all occupations. If you are interested in this growing career field, consider becoming a surgical tech through Milwaukee Career College.
Choosing a career as a surgical technician means you will become a vital member of a surgical team. While working under the supervision of the surgeon, you'll provide patient care and operating room support by prepping equipment for surgery, organizing instruments, and ensuring proper sterilization techniques of equipment and the operating room.
Surgical Technology training at MCC will teach you a wide range of skills including, client education, how to assist in operations and conduct clinical laboratory procedures. MCC will train you for a new career as a surgical technician through a combination of classroom lectures, activities, and hands-on laboratory exercises. Students also gain real-world experience through a 13-week externship in a real operating room.
There are many reasons to get your surgical technology training at MCC, but one of the best reasons is that MCC offers job placement assistance to graduates. In fact, the Career Services team at MCC has assisted many surgical technology graduates to land their dream jobs through some of MCC's community partners such as Aurora Health Care, Children's Hospital of Wisconsin, and Ascension, to name a few.
Another great reason to go to MCC for your surgical technology training is MCC is accredited by the Accrediting Bureau of Health Education Schools (ABHES), which is a recognized as a higher education accreditation organization specializing in the accreditation higher education institutions with programs that offer associate degrees or certificates in the medical assistant, medical laboratory technician and surgical technology fields.
One of the best reasons to go to MCC? MCC helps students through the Financial Aid process. The financial aid process can often seem a little complicated. With so many Financial Aid and Grant options, it's hard to know where to start, which is why MCC's Financial Aid Department can help you through the process and make it easier to apply.
If you would like to learn more about MCC's Surgical Technology training, talk to an admissions advisor today. Students get a lot of one-on-one time with the instructors because class sizes are intentionally small. It is so important to get personalized, hands-on training when starting out a new career. If you have any questions, don't hesitate to contact MCC. One phone call can change your life, in just a little over a year, you can have a great new career full of growth and opportunity.
Contact us or call us at 800-645-5157 today to learn more about Milwaukee Career College's healthcare programs or fill out the form on this page.