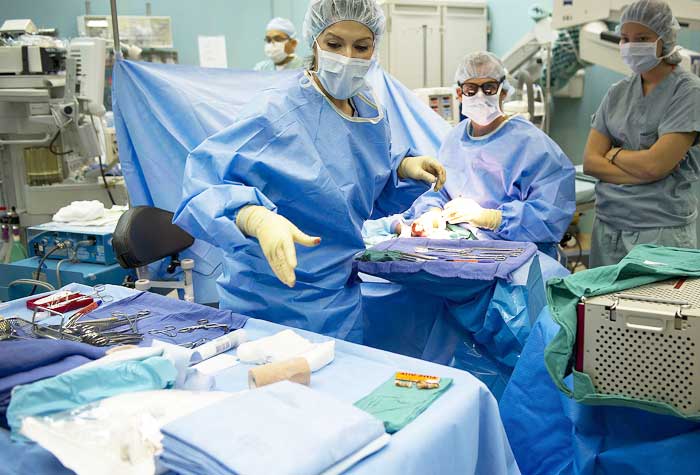 What does a Surgical Tech do?
Almost all of us have seen operating rooms shown on shows or movies. Some of us have even seen the real thing. We often see a surgeon with those blue gloves, a patient on the table, maybe a nurse and some sterile drapes. We know that surgeons operate in operating rooms, but who are the people helping them in the operating room? The answer: surgical techs.
Surgical techs also play a huge role in performing lifesaving procedures. Prior to surgery, surgical techs receive a list of supplies that will be needed for the upcoming procedure, making sure that all of the surgeons' preferences are in order. For a surgical tech, it's all about the details.  For example, they pay special attention to whether the surgeon is right or left-handed, which will determine how the room will be organized.
Before surgery begins, a surgical tech will apply sterile drapes around the patient and also confirm that they have the correct patient, procedure plan and allergy information to ensure there are no errors. Then, when the surgery begins, they assist during surgery to make the surgeon's job easier.
A surgical tech often passes instruments to the surgeon. Hence, a surgical tech must know the names of hundreds of medical instruments. This memorization is one of the more important topics covered in a Surgical Tech training program. Also, a surgical tech must keep track of all the instruments and materials used during and after surgery to make certain that nothing is left inside of the patient. For example, a surgical tech will count the number of sponges, needles and other materials used before, during or after the procedure.
The job of a surgical tech isn't usually described as boring. Each surgeon is different and has unique preferences. Supplies and materials will vary from surgery to surgery. A surgical tech must learn to expect the unexpected because situations change as they unfold. Many surgical techs say that the surprises keep the job interesting.
A good surgical tech is always thinking one step ahead rather than just waiting to be told what to do. If you're interested in learning more about becoming a surgical tech, Milwaukee Career College (MCC) offers a Surgical Technician program. MCC is accredited by the ABHES and teaches a combination of classroom lecture, activities, and hands-on laboratory exercises. The program teaches a wide range of skills including, client education, how to assist in operations and conduct clinical laboratory procedures. Students also gain real-world experience through a 13-week externship in a real operating room.
If you're interested in learning more about MCC's Surgical Tech training, fill out the short form here.