Career Services at Milwaukee Career College
At Milwaukee Career College, we know that obtaining the skills you need is just a part of getting started in a new career. That's why we have a dedicated Career Services team to help you connect with employers and land your dream job!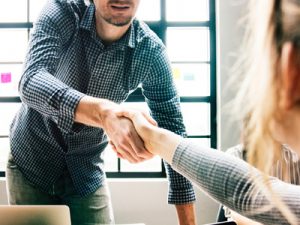 Our Career Services team works with students to identify their key skills and talents and present those to potential employers. Our advisors have developed and nurtured relationships with over 130 area employers! This ensures our students are gaining the skills employers seek and allows us to share job openings with graduates as soon as they become available.
We take students careers very seriously at MCC. Your career training is an investment in your future and we want to help you reach your goals. Milwaukee Career College assumes no responsibility for, nor does it guarantee employment. However, we do make every reasonable effort to secure employment for our graduates who have satisfied all the academic and financial requirements.
How MCC Helps You with Job Placement
The Career Services department at Milwaukee Career College provides students with the assistance they need to pursue their career goals. We can help you prepare your cover letter, resume, and develop networking skills. You will feel confident about the interviewing process as we conduct mock interviews, teach you interviewing etiquette, and provide you with tips to help maximize your job search efforts.
You may be able to get financial aid. There are financial assistance and financial aid programs available to those who qualify – learn more!
They are very supportive. They want me to finish my schooling and get a good job in the medical field. They want me to have a good career and a good future.

- Cintia Huerta