Become a Veterinary Assistant in less than 1 year!
Veterinary Assistant Training Program
Veterinary assistants are critical members of veterinary practice; they are responsible for the overall well-being of animals under their care. Vet assistants work under the supervision of a veterinarian and perform a number of routine tasks. These tasks can include monitoring and caring for animals, managing surgical equipment, assisting in emergency first aid, and administering medication prescribed by the veterinarian.
Working as a veterinary assistant is a rewarding career choice that allows you to impact the lives of pets on a daily basis. In order to successfully perform the job, a vet assistant should be compassionate, able to pay attention to detail and be in overall good physical health. Because of the role vet assistants play in the medical treatment of animals, they must be able to follow instructions as directed by the veterinarian. Veterinary assistants must also be able to lift and restrain some heavier animals during examinations.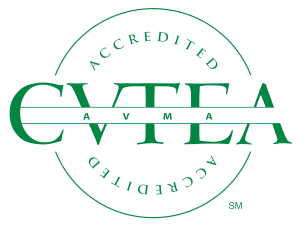 Milwaukee Career College is fully accredited by the American Veterinary Medical Association (AVMA). The veterinary assistant training program at Milwaukee Career College provides instruction for entry-level positions in veterinary practices. You can finish our vet assistant school and begin working as a vet assistant in less than 1 year! MCC will prepare you to work directly with animals in a variety of work environments including veterinary clinics, shelters, animal hospitals and specialty practices. Also, after you become a Veterinary Assistant, you become can take the next step and become a Veterinary Technician.
Read More
Training as a Veterinary Assistant in Milwaukee
Why is training for a veterinary assistant at Milwaukee Career College a good decision? According to the Bureau of Labor Statics, the demand for veterinary assistants is expected to rise by 19% between 2016-26, a much faster than the average growth rate. Vet Assistants earn a median wage of $26,140 per year or $12.57 per hour.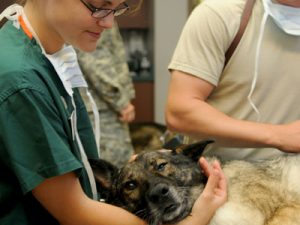 Milwaukee Career College is the leading school for veterinary assistant training in the Milwaukee, WI area. We offer flexible program options to fit your busy schedule, both day and evening classes are available! MCC graduates also have access to job placement assistance to make finding your dream job as a vet assistant easier.
Read More
IACUC Animal Welcome Concern Reporting Information
You may be able to get financial aid. There are financial assistance and financial aid programs available to those who qualify – learn more!
"We have had several externs from Milwaukee Career College. They were of the highest caliber. I enjoyed working with and training them."

- Perry Colorosa, Veterinary Employment Partner