Vet Tech School in Milwaukee
Earn Your Veterinary Technician Degree in less than 2 years!
Learn more about Milwaukee Career College's veterinary technician program offering vet tech training classes in Milwaukee. This program is designed to train veterinary assistants who want to take the next step in their careers. Graduates of this program will qualify for technical positions in veterinary practices. You can finish your training and begin working as a vet tech in less than 2 years!
MCC can prepare you to work in a variety of settings including general, specialty, and emergency practices working with both small and large animals. Vet techs can also be found working in academia, research, veterinary sales, education, or zoos and wildlife parks!
If you're passionate about helping animals and are looking for a fun, rewarding career, becoming a veterinary technician would be a good choice! To be successful as a vet tech, one must be compassionate, pay close attention to details, and have good physical dexterity. Vet techs are expected to record patient information accurately, perform diagnostic tests, and administer prescribed medications to ensure the well-being of the animals in their care. They must also be able to perform intricate tasks such as performing dental work, giving anesthesia, and taking x-rays which require a steady hand.
Training as a Veterinary Technician in Milwaukee
Veterinary technicians work under the supervision of veterinarians to provide superior animal care in their facilities. Some of the most common tasks a vet tech performs include observing animal behavior and conditions, providing nursing and emergency care, collecting and testing lab samples, taking and developing x-rays, preparing animals and equipment for surgery, and administering medications, vaccines, and treatments as prescribed by the veterinarian. According to the Bureau of Labor Statistics, demand for vet techs is expected to rise by 20% in the next several years.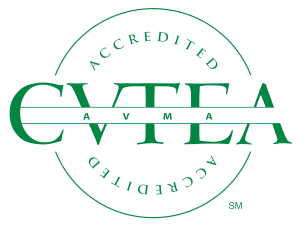 Milwaukee Career College is the best choice when it comes to veterinary technician training in the Milwaukee, WI area. Milwaukee Career College is fully accredited by the American Veterinary Medical Association (AVMA). In addition to hands-on training, students will gain real-world experience through a 12-week externship at a real veterinary practice! MCC also works with area employers to offer job placement assistance to graduates.
IACUC Animal Welcome Concern Reporting Information
Read More
You may be able to get financial aid. There are financial assistance and financial aid programs available to those who qualify – learn more!
As soon as I walked in the door, I knew Milwaukee Career College was top notch and a good fit for me.

- Shay Woodley, Veterinary Technician Graduate