Surgical Tech Training in Milwaukee
Earn Your Surgical Technology Associates Degree in Less Than 2 Years!
The surgical technology training program at Milwaukee Career College offers surgical tech classes that prepare individuals for entry-level positions in the operating room. Our program helps students begin a career in the medical field by supporting the surgical team in the care of patients during surgical procedures. Surgical tech opportunities are available in a variety of work environments, including urgent care facilities, private practices and clinics, outpatient care centers and physicians' offices. Milwaukee Career College is the superior choice for surgical technology training in Milwaukee, WI. Both day and evening class options are offered to work with your busy schedule.
The responsibilities of a surgical tech require certain qualities to have a successful career. Surgical technologists must pay close attention to detail to provide the correct sterile equipment for surgeons and account for all of the instruments used during surgery. Good physical stamina is another trait due to the need to stand for extended periods of time. It cannot be ignored that working in an operating room can be stressful. Surgical technologists must be able to work well under pressure while also providing a high level of care.
Career Training for Surgical Technicians
If you're looking for surgical tech programs in Milwaukee, then learn more about Milwaukee Career College. MCC will train you for a new career as a surgical technician through a combination of classroom lectures, activities, and hands-on laboratory exercises. Our surgical technology training program teaches you a wide range of skills including, client education, how to assist in operations and conduct clinical laboratory procedures. Students also gain real-world experience through a 13-week externship in a real operating room.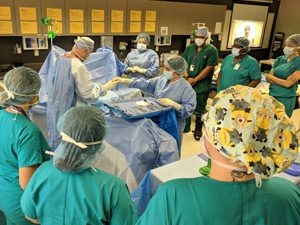 The surgical technician is a vital member of any surgical team. Working under the supervision of the surgeon, they provide superior patient care and support in the operating room. Thanks to the surgical Tech, the surgeon is able to put her full attention on what matters most, the patient. Surgical techs are responsible for a variety of tasks including prepping & arranging equipment before surgery, handing off and receiving instruments, keeping track of all surgical instruments, and ensuring proper sterilization techniques of equipment and the operating room.
Read More
You may be able to get financial aid. There are financial assistance and financial aid programs available to those who qualify – learn more!
Being a Surgical tech is like bringing together a passion with a career and that is a BEAUTIFUL thing. Scalpel Please!

- Ruth Duran