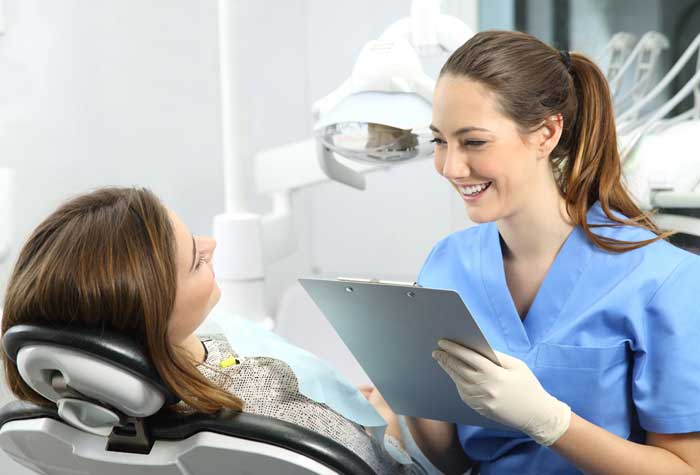 5 Facts to Know about becoming a Dental Assistant
Being a dental assistant can be a great career, but if you're not familiar with the details of becoming a dental assistant, you may be uncertain about choosing it as a career. You may be wondering if it is the right career for you. There are 5 facts that could help you make a decision. If you love helping people be the best version of themselves or want a job with a low stress level, then becoming a Dental Assistant (DA) might be the right fit for you. Here are 5 facts that will give you more insight into becoming a dental assistant.
Fact #1 – The demand for dental assistants is growing. According to the Bureau of Labor Statistics, the need for dental assistants is projected to grow by 19 percent over the next decade. Growing demand for dental assistants means abundant opportunity and job security. This also means that the likelihood of finding a job near your home is high, which helps lower your commute time. You also are unlikely to experience industry-wide downsizing.
Fact #2 – Dental assistants get to work with all kinds of people. From children to adults to elderly patients. What all these people have in common is the desire to have a nice smile and healthy teeth. Being a dental assistant can be a very rewarding career. A great dental assistant is patient and friendly with a knack for being able to put people at ease.
Fact #3 – Being a dental assistant requires good organizational skills. As a dental assistant some of your duties may require preparing patients and the work area for treatments and procedures. You'll need to keep all of your instruments sterilized and organized for easy access. You'll also need keep patient records, billing statements, and dental forms organized. Some dental offices will have these digitized and some will not, so the amount of paperwork will vary from office to office.
Fact #4 – Being a dental assistant requires good communication skills. As a dental assistant you will need to discuss treatments with both dentists and patients. In some cases, the dentist will give you information to relay to the patient. Therefore, a great dental assistant needs to be a great listener and also have good interpersonal skills for relaying information to patients in a professional, friendly manner.
Fact #5 – Dental assistants need to be good with their hands. Often dental assistants spend their day handling dental instruments. They will need to be able to make precise movements with their hands and fingers while also exerting the right amount of physical pressure when performing procedures. Really good dental assistants sometimes advance their careers by becoming dentists.
Did these 5 facts help you? If you are naturally patient, friendly, organized and a good listener, then becoming a dental assistant may be the right career choice for you. Milwaukee Career College (MCC) can help you refine your skills as well as give you new ones so that you can become one of the best dental assistants in the field. One GREAT thing about MCC's accelerated Dental Assistant program is that it doesn't require years of schooling. You can get your diploma in a relatively short amount of time, which means that you get to start your new career quickly.
Contact us or call us at 800-645-5157 today to learn more about Milwaukee Career College's Dental Assistant Program.