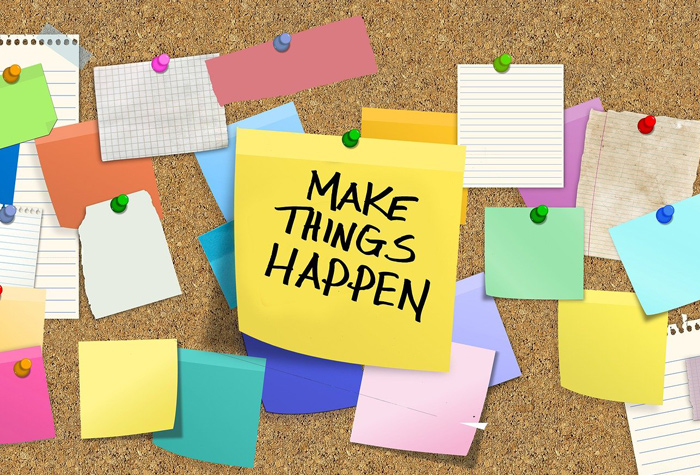 Top 5 New Year's Resolutions
We have the Top 5 New Year's Resolutions! Have you ever made a New Year's resolution that you didn't keep? It's no secret that New Year's resolutions don't always pan out. Every new year, we start off determined to follow through with our resolutions, but somewhere along the way, maybe February or even mid-January, the majority of us find other things to focus on. This 2020 will be different! We've compiled a list of GREAT New Year's resolutions that will keep you focused on your REAL goals, whatever they may be. Here are our Top 5 New Year's Resolutions.
#1 Stop Procrastinating
Make this your number-one resolution! It'll keep you from achieving your goals. Write down a list of all the things you want to do and set a deadline. Post your list up somewhere in your bedroom so that the first thing you see in the morning is your list of goals and the deadlines that go with them. Maybe your goal is to spend more time with your family. Or, maybe it is to shed a few pounds so that you can fit into your "skinny" jeans. Whatever your goal maybe – don't wait to achieve it – start as soon as possible and set a reasonable deadline.
#2 Be More Productive
Get more done this year. We all want to get things done, but sometimes life gets in the way and time just slips through our fingers. One way to be more productive is to schedule some time for yourself. If your goal is to shed a few pounds, schedule a time on the weekend for meal-prep or exercise. It could be just once a week if you're really busy, or even once a month – just find a way to schedule a time and stick to it. You'll feel good about it.
#3 Make Better Use of Your Time
We're all guilty of it. Screen time! It's amazing how many minutes and hours go by as we get sucked into a screen. Whether it's a TV, smartphone, or computer, time seems to get sucked into a vacuum and disappear forever and before you know it, things you wanted to accomplish didn't get done. It happens to all of us. If you want to make better use of your time this year, try to limit how much time you spend in front of a screen on weekends. Block out 1-2 hours a day on the weekend where you don't look at a screen. Do anything else instead. At first, it'll feel a little weird and time may drag by, but as the weekends go by, and you get more and more used to it, you'll find that in those few hours that you avoid the screen, you're actually getting stuff done. Surprise, surprise!
#4 Write Stuff Down
Our thoughts move at lightning speed and it's easy to get distracted. A good way to keep track of your thoughts is to write little notes to yourself. Maybe it's on a Post-It note or maybe it's in a journal, whatever you use, it doesn't have to be super long. It could just be a few words or if it makes you feel better a few paragraphs. Next time you have a conflict, instead of getting into a confrontation or saying the wrong thing, write down what you are feeling and ways you can deal with it. You'll find in the end you feel better.
You can also write down other things, like activities you want to do during the week or tasks you want to accomplish. Notes are great reminders of what we want to do in life. They also let us work through our feelings. Try it!
#5 Get Richer
Most of us aren't rich but that doesn't mean we can't take steps to make our future more financially secure. This year take steps to make yourself richer. Maybe start a savings account and actually make small deposits in there. It could be as little as $10 a month or as much as $100 a month, either way, at the end of the year – you'll be richer. You can use that money to take a trip or pay off some debt, or even use it for the holidays. Saving money is a good habit to get into. It may not seem like it at the time – but by saving money – you are slowly making yourself richer.
Take a step towards your future
If you live in the Milwaukee area, and you liked our Top 5 New Year's Resolutions, consider starting a great new career. MCC offers quality training programs. Learn more about training to become a Dental Assistant, Medical Assistant, Surgical Tech, Veterinary Assistant or Veterinary Technician. Our accelerated training programs mean you can complete a degree in two years or less. Students have the option to choose from both day and evening classes, so they can find a program that will fit into their busy schedule.
CALL 1-800-645-5157 TODAY AND LEARN MORE ABOUT TRAINING IN MILWAUKEE, WISCONSIN.